ZS Selected to Perform Building Enclosure Commissioning (BECx) of the New Will County Courthouse in Joliet, IL
Posted by:
ZS

on November 8, 2018
Will County Courthouse, Joliet, IL
Construction is underway on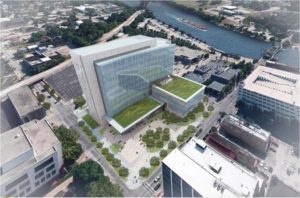 Will County's new courthouse and justice center in downtown Joliet, Illinois. The building is a 10-story, $215 million project designed by Chicago-based architecture firm Wight & Company. Gilbane is the Construction Manager for the Project.  The new 369,000-square-foot structure includes a curtain wall facade and large landscaped plaza to convey openness and transparency. The new building will replace the current four-story brutalist facility across the street.
Topped by an extensive green roof, the facility will include 38 modern courtrooms to hear criminal, civil, and family law cases. Offices of the Will County circuit court clerk, state's attorney, and public defenders will be housed in the new structure.
ZS has partnered with Farnsworth Group out of Lisle, IL to perform Building Enclosure Commissioning (BECx) services on the project.  ZS specific role is to perform mockup air barrier testing, functional performance testing of air barrier, roofing, windows, curtain wall and metal panel systems throughout construction.  Also, construction quality control site visits will be performed of the building envelope systems during construction.  ZS has already started performing mockup air barrier testing including air barrier adhesion testing (ASTM D 4541) and air leakage testing (ASTM E 783) of the onsite exterior wall mockup.