Digital Twin for Facility Management: Development of the Building Information Model
Posted by:
ZS

on May 5, 2020
Digital Twin for Facility Management: Development of the Building Information Model

Facility Managers today are actively pursuing the benefits of a building's "digital twin." A digital twin is a term used to describe a computerized, or digital version of a physical asset such as a building. This twin mirrors a buildings systems, processes, and physical infrastructure. When sensors are incorporated, facility managers can run smart maintenance systems that include real-time information interchange that can actively perform condition monitoring, diagnostics and predictive operations. The digital twin can also simulate and detect potential issues and resolve the process before the physical system actually experiences a problem. Finally, digital twins enable remote operations through cloud-based solutions allowing the majority of the operations to be run remotely.
How to Create a Digital Twin of a Building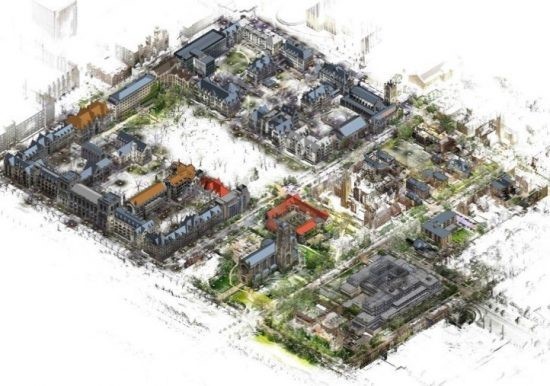 ZS Utilized Scan-to-BIM Technology to Develop Over 3 Million Square Feet of Digital Space on the University of Chicago's Campus
The first step in creating a digital twin requires the preparation of the Building Information Model (BIM) which is an intelligent, 3D modeling of the building and its various systems. How this is done can vary greatly depending on the stage of the building's life cycle and the availability of existing documentation. For buildings that are still in design, engineers can place greater emphasis on the level of detail and how systems are modeled to permit direct integration with CAFM systems. For existing buildings, the goal of digitizing is to replicate as accurately as possible the existing systems and installations. 3D laser scanning-to-BIM technology in conjunction with existing documentation is the most effective way to accomplish this.
Benefits of a Digital Twin During the Life of the Building
Improved workforce efficiency – access to information will occur instantly rather than require FM staff to spend time looking up information on drawings, equipment documents and paper documents.
Security, space use and change planning/ management– multiple scenarios can be simulated and coordinated with required HVAC system adjustments based on real time demand of space occupancy
Longer equipment lives supported by intelligent use pf preventive maintenance rather the reactive maintenance.
ZS offers a full range of services to support the creation of a functional digital twin of your facility that can readily interface with your existing facility management practices and systems.